what is done with love is
done well
empowerment through beauty
DRIFT Beauty Co. is an acronym for Dermal Rejuvenation / Facial Tattoos, a small local business devoted to non-toxic and non-invasive esthetic services. We are beyond passionate about skin care and beauty treatments that empower, magnify and improve beauty that already exists.
Our founder and principal permanent makeup artist, Tara Jackson, is 10x certified and professionally trained in a wide variety of cosmetic permanent makeup artistry, techniques and procedures. At DRIFT Beauty Co. we believe that happiness is the secret to all beauty, and therefore we are dedicated to providing our clients with the highest quality products, genuine craftsmanship, and exceptional customer services to ensure our clients feel comfortable, confident and beautifully happy before, during and after every treatment.
DON'T BE NERVOUS, BE INFORMED
At DRIFT Beauty Co. we only use high quality sterile single-use disposable materials and ensure that all equipment and surfaces are properly sterilized and disinfected before and after each procedure. Safety and cleanliness is a number one priority, as well as providing every client with a luxurious  and comforting experience.
highest quality equipment

All tattooing is performed with the highest quality German-made precision equipment and single-use needle cartridges to carefully implant pigment to mimic the appearance of natural hairs.
Appointments are booked for 4 hour sessions to provide amply time to discuss, design and detail the perfect eyebrows. Actual tattooing time is approximately 90 – 120 minutes. Prior to starting, we will conduct a full facial analysis and design conceptualization, including facial mapping, discussion of brow styles and options that are best suited for each individual, and a full explanation of the procedure to be performed.
Post appointment healing instructions and aftercare products are provided at each appointment. The full, deep healing process for the skin to completely rejuvenate is 6-8 weeks, however, the visible top layers of skin will heal after 2 weeks. Your cosmetic tattoo will experience a few normal side effects, including slight redness, itchiness and peeling during the first 7-10 days. You can expect the tattoo to appear darker for the first 3-5 days, at around days 4-7 light peeling will occur, revealing lighter and softer impressions. The colour will continue to stabilize as the new skin processes for up to 3 weeks, some patchiness or lighter areas is normal and will be perfected at the secondary Touch-up Appointment.
Every aspect of your cosmetic tattoo is 100% customized to perfectly suit your face. We mix the pigments to colour match your hair colour and skin tone, and design a shape to  compliment your facial features, eyes and bone structure. The eyebrow shape and each hair stroke is pre-drawn with a wax pencil for the client's review and approval prior to starting any tattooing. Clients are invited to bring photo references to share their brow goals.
The initial session will be focused on design, symmetry, and structure. We always start conservatively to build a foundation for your desired outcome. Expect the initial session to heal lighter than the final product. Everyone's skin will accept pigment and heal differently, depending on a variety of factors such as age, skin type, skin tones, activity levels, hormones, daily skin care routines, etc. A secondary follow-up appointment is scheduled for 6-8 weeks after the initial session and is included in the initial pricing.
Before we start tattooing, we apply a topical numbing cream with 5% Lidocaine. We also use a secondary numbing ointment throughout the process to ensure guests' comfort. Read More
adjustments & long term care
At the secondary Touch-up Appointment, we will assess how the pigment has been deposited and healed into the skin. We will then create any necessary adjustments to achieve the client's optimal colour, shape and volume. Proper aftercare is crucial for optimal healing results. Long-term aftercare is also necessary to protect your tattoo and ensure longevity.  Supplemental Colour Refresher Appointments (between 1-3 years) are recommended to maintain crisp lines and colour density.
perfect brows are a form of art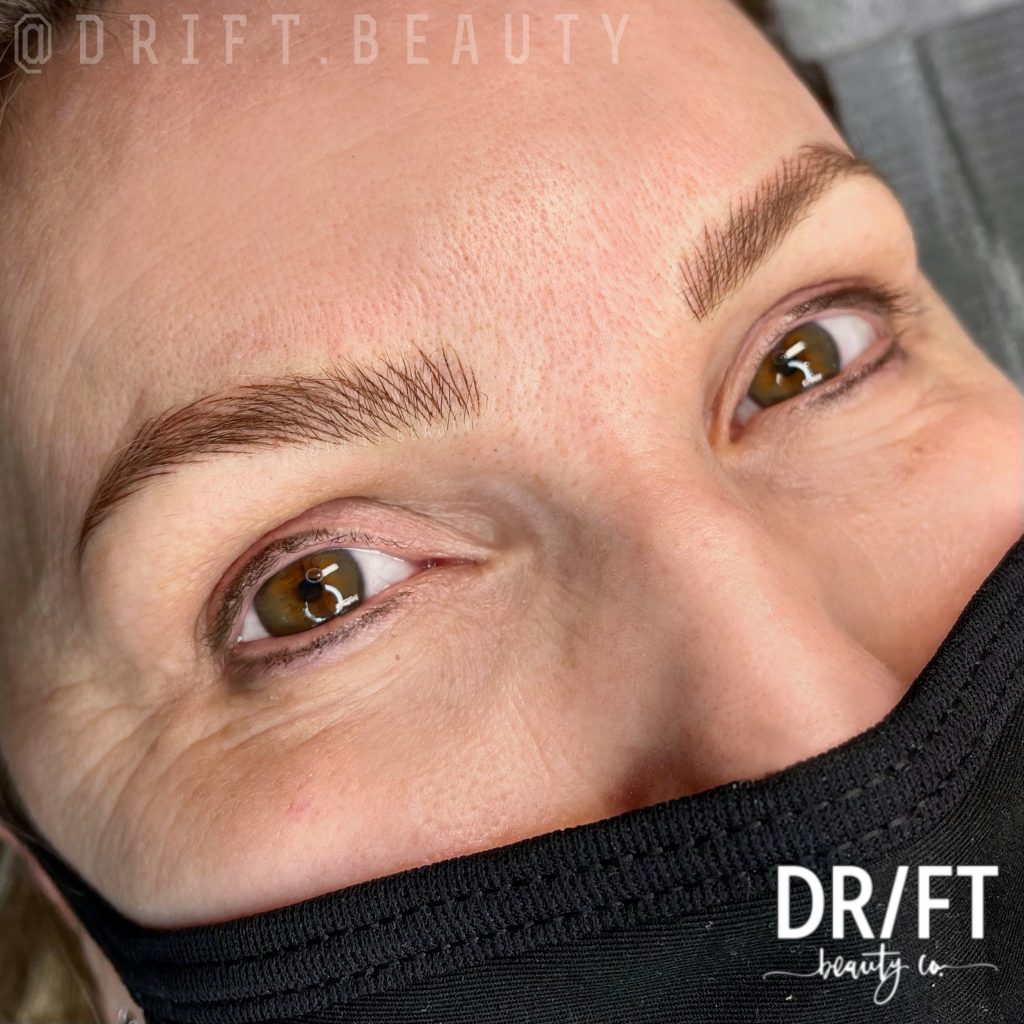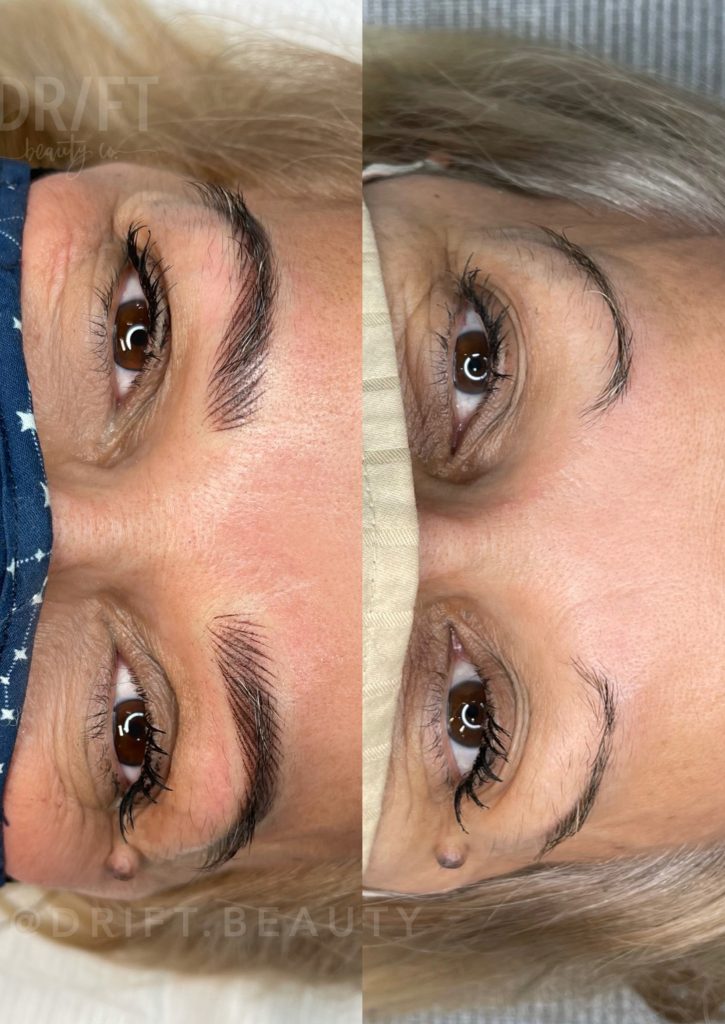 Every brow is carefully designed to perfectly suit your unique facial features and personal style. 100% CUSTOMIZED FOR YOU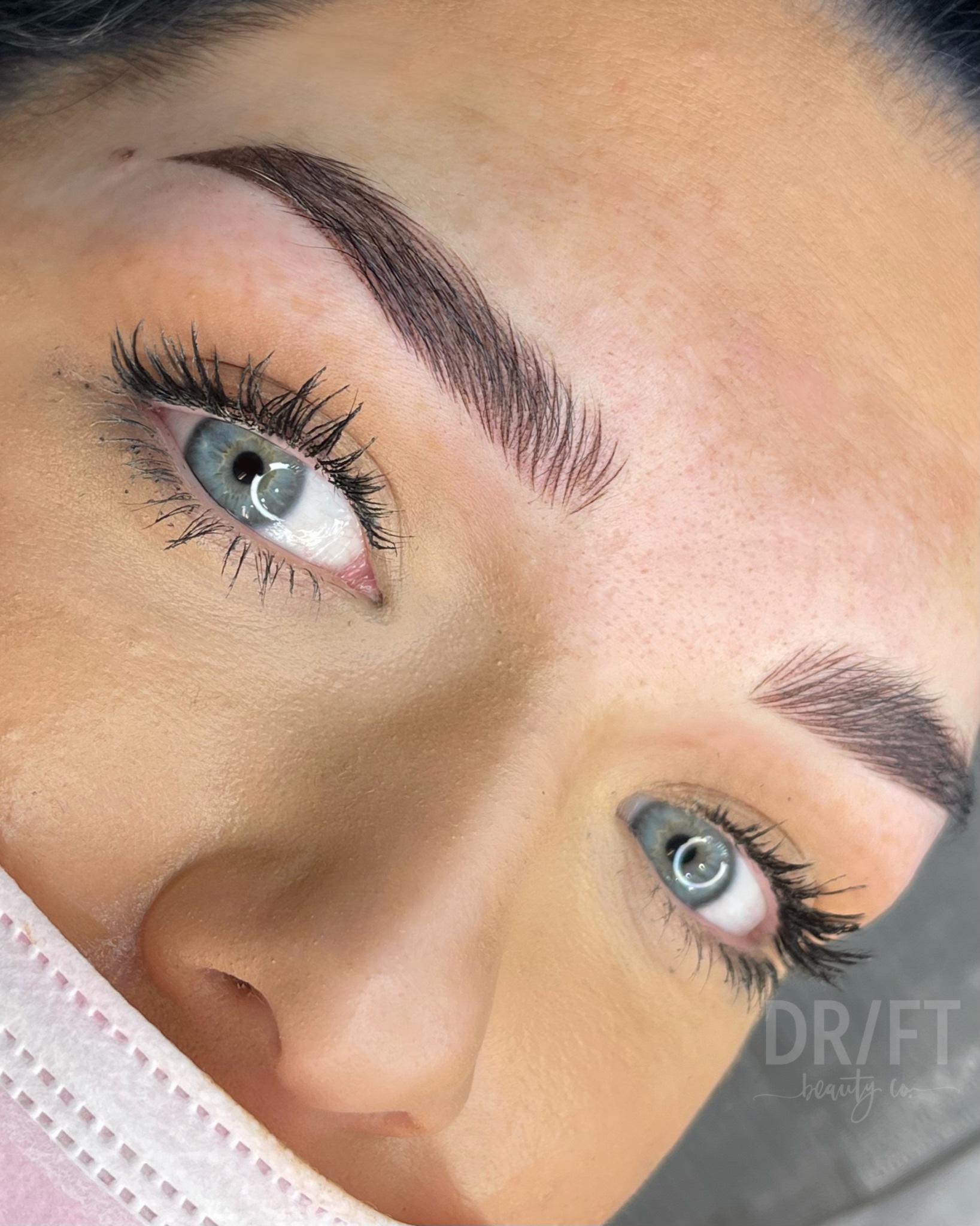 Don't make a wish, make an appointment!
naturally enhance your existing beauty with nano brows & cosmetic tattoos
Whatever types of questions you may have, feel free to get in touch with us and address them!